Vedicology Team of Consultants
---

Dr Eswaran Namboothiri – Senior Consultant

---
Dr Eswaran Namboothiri hails from the ancient Poomulli Mana in Kerala. He is recognized as a veteran on The Vedas, Vedic Rituals, Customs, Astrology and Vastu Shastra. Sri Eswaran Namboothiri is a competent Vedic Research Scholar, Astrologer, Numerologist and Vastu Expert. Eswaran Namboothiri provides his wisdom and knowledge to Vedicology in the capacity of a senior consultant. Dr Eswaran Namboothiri has impressive academic records. MA, MPhil from the prestigious Jawaharlal Nehru University (JNU) and a PhD from Banaras Hindu University, Mr Namboothiri is a treasure trove of knowledge.
Sri Eswaran Namboothiri completed his Vedic Education from Thirunavay Brahmasvam, once of the most ancient Vedic Schools in India. Mr Namboothiri has been a research scholar on Indian Religious Philosophies and a Professor with Banaras Hindu University from where he retired.
In his post-retirement days, Dr Namboothiri uses his expertise in Sidhanta, Ganitha, Samhita, Hora and Triskandha for the benefit of the human race. Dr Eswaran Namboothiri's long association with Mr Praveen Saanker (Founder of Vedicology) resulted in a professional association since the formation of Vedicology.  Mr Namboothiri contributes to the cause of Vedicology as a Senior Consultant and Mentor.
---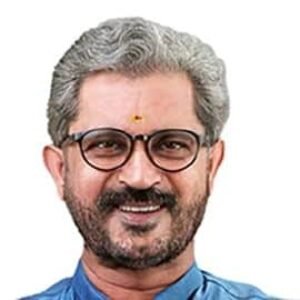 Dr Abhishek Mohan – Senior Consultant

---
Dr Abhishek Mohan is an expert on Vedic Studies & Research, Astrology, Numerology and Vastu Shastra. Sri Abhishek was born in Thrissur, Kerala and relocated to the North of India during his childhood.
Along with his impressive academic qualifications (MA, MPhil, PhD, Banaras Hindu University), Abhishek Mohan is a great academician. Dr Abhishek is an honorary member in the boards of many Vedic educational institutions in India.
Previous Positions – Professor, Banaras Hindu University and Professor – Sampurnanand University.
Honorary Positions – Secretary – Centre for Hindu Religious Studies, Founder Member – Society for Kashmiri Shaiva Philosophy.
Dr Abhishek Mohan, along with his team of scholars, has translated primary tantric texts that had been written by the 10th century, particularly in Kashmir, Nepal, and Bengal to English.  Sri Abhishek has thereby made these books accessible to modern seekers of these subjects.
---
Dr Suparna Anand – Senior Consultant
---
Dr Suparna Anand is a veteran and an expert in Vedic Scriptures, Jyotish and Medical Astrology.
An MPhil, PhD, Psychology from St Xavier's College, Ahmedabad, Suparna has more than 25 years of Professional Practice as a Psychologist and Counsellor. Dr Suparna's Medical Astrology applications in Psychology has gained her immense reputation in the field of Medical Astrology.
Dr Suparna is proficient in Vedic Astrology, Chaldean Numerology, Vastu Shastra and Fengshui.
Apart from being an accomplished Psychotherapist, Dr Suparna is also a Clinical Hypnotherapist and Past Life Regression Therapist from the National Guild of Hypnotists, Inc (Merrimack, NH, USA).
Dr Suparna hails from a family of Brahmavadinis. Brahmavadini was a woman who studied the Vedas after the Yajnopavitam samskara (sacred thread ceremony) and got married later or stayed a bachelor in further pursuit of the Vedic knowledge. Dr Suparna contributes to Vedicology initiatives as a Senior Consultant and Advisor.
---
Vedicology Client Support and Service Delivery
---
Mr Ajay Varma, Head – Client Support & Service Delivery

---
( Senior Astrologer, Numerologist and Vastu Vidya Consultant, Head – Vedicology Remedial Services Team)

---
Mr Ajay Varma heads the Client Relationships and Service Delivery platform for Vedicology. Mr Ajay also heads the Astrology, Numerology, Vastu Shastra, Gemology consulting and the Vedicology remedial services division. Ajay is a founding team member of Vedicology and has been involved in various activities of the organisation since 2011.
Ajay is an alumnus of Kerala Jyotisha Parishath, a legendary institution for learning Vedic Astrology in India. The 50-year-old institution has produced some of the greatest legends in Astrology across India. Ajay Varma is well versed in Hora, Prasna and Kavadi Kriya. Ajay has immense knowledge of Vedanta and Darsanas and has learned the same under the guidance of legendary Gurus in Kerala Jyotisha Parishath. Mr Ajay is also well versed in Vastu Vidya, Anka Jyotisham or Numerology and Vedic Gems.
Mr Ajay is a part of the Vedicology Research Team that is focused on conducting a scientific, logical, and fair study of the treasured historical scriptures of the motherland. The team research older Vedic customs and rituals, science and spirituality, the material of classical literature as well as the technology that existed in this holy nation for many centuries.
Having been a banker, Ajay has more than 18 years of operational experience with global banks like HSBC the client management platform across India, UAE, Singapore, and Malaysia. Apart from his impressive academic qualifications (MBA, Anderson School of Management, University of California), Ajay is an expert in Remedial Astrology and Vedic Remedial Rituals.
After the completion of his Astrology, Vastu Vidya and Numerology studies Ajay was initiated into the Meppad Mantrika Sampradaya which is one of the oldest and most potent Mantrika Sampradayas of ancient Kerala, particularly North Kerala. Meppad follows "Kaula" philosophy through "Brahma Vidya Sampradaya", which is the path to Nirvana.
Mr Ajay also heads the training division of Vedicology and works closely with Mr Praveen Saanker, the founder of Vedicology.