Business Numerology for Sole Proprietorship Firm
Business Numerology for this type of firm is always based on the owner's Astro numerological data.  When a business is owned and governed by one person, it is called a sole proprietorship company. This type of business can be set up in one to two weeks with minimal documentation. Hence this is one of the most popular types of business to begin in the unsystematic sector, specifically among merchants and small traders.
For a Sole Proprietorship business, you do not require a separate registration as your business is identified through alternate registrations, such as GST registrations. However, its liability is unlimited, and it also doesn't have perpetual existence. Since a sole proprietorship firm does not have an independent existence choosing a business name with numerology requires caution and care.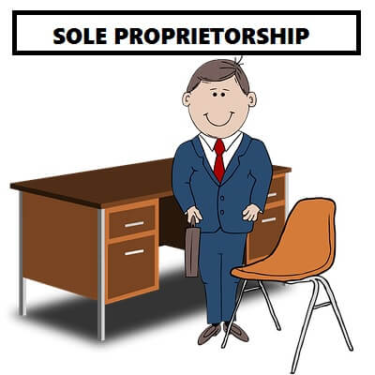 Important Pointers on Sole Proprietorship Business
---
This part of the information we provide has nothing to do with Business Numerology. When you approach us for choosing a business name with numerology, it may be improper from our end to assume that you know it all. Hence we have included some of the advantages and disadvantages of Sole proprietorship business structure.
Sole Proprietorships have minimal compliance, and therefore their agreements are confined to annual filings for service, sales or professional taxes. This type of business is easy to begin with, with only a pan card ( oners PAN) and a GST registration. Hence you can commence your business in 15 days. A sole proprietorship is economical due to its minimal compliance requirement and, therefore, no need to hire an auditor.
Now, let's look at some of the disadvantages of a sole proprietorship business.
You have unlimited liability for debts as there's no legal distinction between private and business assets. Your capacity to raise capital from PE or VC is limited or next to impossible. You may find it challenging to retain high-calibre employees. You're taxed as a single person since the business has no separate tax identity. So, before you commence your journey on naming your business through business numerology we suggest being sure of the business structure you would like to create.
---
Business Numerology Process for Sole Proprietorship Firm
---
Business Numerology Level 1 Report – Auspicious Starting Sounds
---
As the first step towards business numerology, we analyse the panchanga details of the owner according to Vedic astrology. We do this analysis based on the birth details of the business owner.
We provide you with the most auspicious starting sounds for naming your business. This report is prepared basis numerological charts and panchanga shuddhi checks of the owner. The report also contains a list of sounds that requires avoidance. We list out the inauspicious sounds because sometimes the business owner may have preconceived notions of names that he or she would want to keep for his business. So, we believe It's essential for an entrepreneur to know in the beginning that certain sounds may not be auspicious for him.
Delivery TAT for Business Numerology Level 1 Report
We email you the report within 48 hours or Two working days. This means that if we receive the payment on Monday between 9 am – 4 pm, the Level 1 report will reach you via mail before Wednesday 6 pm.
---
Business Numerology Level 2 Report – Name Selection for Your Business
---
The business Numerology process requires you choosing "one" starting sound from the recommendations we have given you in the Level 1 report. Once you confirm the starting sound, our business numerology team commences our work on name options. We provide you with the best name options for your business in the Level 2 report.
Our Numerologists provide you with a list of recommended names based on the starting sound we have endorsed and approved by you.
These names would be auspicious astrological and numerological combinations. You will receive names with a perfect balance of birth number, name number, destiny number, compound name number and compound destiny number.
We recommend around 25-30 short, easy to spell and meaningful business names as a process.
Please Note:-
Business Numerology names are selected basis one starting sound you had selected. In case you require additional starting sound name options, you can let us know we shall provide the same with a minimal additional fee.
In some instances, we receive requests for "made-up names" or innovative names or phrases without a definite meaning. Traditional business numerology guidelines do not recommend the same. We understand that naming is very personal, and sometimes the names that we recommend may not suit your liking. Some times it so happens that you and your family have your inputs and choices. Or it could even be that you have a set of names that you have cherished for a long time. Not to worry, we are with you on this journey till the end. You can give us any number of names with the recommended starting sound. Our team will analyse it from the numerology aspects. We will tune these names with minimal corrections, ensure that it is numerologically perfect and deliver the same to you. We will do this without any additional fee if you have opted for one of our business numerology naming packages.
Delivery TAT for Business Numerology Level 2 Report
We shall email you the name recommendation report based on business numerology within 48 hours or two working days post your email confirmation on the starting sound.
---
Business Numerology Level 3 Report – Name Significance Report for the Chosen Business Name
---
Once we receive the confirmation for a chosen business name, our team commences work on the final report on the qualities and characteristics of the business name.
Once you select the name for your business from all the options we have provided, you need to send us a confirmation mail. Then our team will start working on the name significance report.
Our Numerologists prepare an in-depth "Name Significance Report" for your new business name.
We provide you analysis reports on your business birth number, name number, destiny number, lord of birth number, lord of name number and lord of destiny number.
The report also contains the significant years, benefic ages, auspicious dates and inauspicious dates for your business. We provide you with the most auspicious colours for your business. You will get to know the favourable and unfavourable periods as per your business's numerological analysis. Our team give you inputs on the favourable weekdays, beneficial gemstone, your God as per numerology and the most supportive planets as per your business name.
Vedicology provides you with a report on your business's essential characteristics, health and finance based on the name and other numerology parameters.
We also provide you with your business's favourable direction, your significant office building numbers, lines of activities that suit your business, ideal vehicle numbers for your business.
We also provide you with remedial measures as per Cheiro or Chaldean numerology.
Please Note:-
Name Significance Report as per Business Numerology for the chosen name is an extensive process that requires three working days. The Name Significance report indicates salient features of the "chosen business name". Please note that this is not an astrological reading for the business or the business owner. Name significance report is prepared for one name ( the selected name). But some times clients may need a name significance report for additional names as well. Well, not a problem at all.  We can provide you with additional name reports for a minimal add-on fee. You can get in touch with our team, and we shall assist you with this.
Delivery TAT for Business Numerology Level 3 Report
We email you the report within 72 hours or three working days post your email confirmation on the chosen name.
---
Business Numerology For Proprietorship Firm – Professional Fees
---
Business Numerology Naming Process – Fee for a Proprietorship Firm
INR – 5,000 plus applicable GST of 18%
You can remit the fee online via a direct bank transfer, GPay, PayTM or a Visa or Master Credit Card. International Clients can make the remittance via PayPal ( Please check with our team for the foreign currency fee via PayPal remittance)
For any assistance on Fee remittance please WhatsApp or Call Us at +919500099996 or write to us at support@vedicology.com
---
Working Hours and Days



---
We work from 9 am to 5.30 pm (IST) from Monday to Friday other than national or state holidays.  You can reach us by mail, call us or WhatsApp us on +91 9500099996. In case you try contacting us after our office hours, please leave a WhatsApp message or mail, and our team shall get back to you on the next working day.
Please go through the turn around time that we have mentioned on each service information website link or document we send you.
---
---
Informative Reads on Numerology

---
---